Filler

---
The Next Generation's Derma
As we age, our skin loses structure and volume, and the hyaluronic acid in our skin is depleted, creating unwanted wrinkles and folds. Instantly smooth away wrinkles and folds with fillers, a hyaluronic acid-based treatment that is designed to eliminate static wrinkles, reduce facial folds and restore volume loss.
When injected in the skin, the filler safely replaces the hyaluronic acid the skin has lost, restores its volume and smoothens facial wrinkles and folds. It will plump up tissues and bind collagen stores.
---
Before + After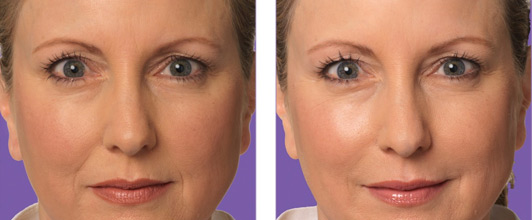 How Does It Work?
A facial filler made from hyaluronic acid (HA) - a naturally occurring sugar found in your skin. It combines with water in your skin to instantly restore lost volume, smooth out lines and wrinkles and enhance lips. The smooth gel provides results that are not only instant but also long-lasting and natural-looking.
Will The Session Be Painful?
The filler is injected directly into the skin using a fine needle to reduce injection discomfort. Because the filler is also available with pain-reducing lidocaine, the whole injection process is a more comfortable experience.
What Kind Of Results Can I Expect?
The results are instant. You will see an immediate improvement in the treatment area. Most people need only one session to achieve an optimal outcome.
Immediate results can be noticed after one session. While results may still vary depending on the treated areas, our filler is clinically proven to last up to one year. Supplemental "touch-up" treatments may be required to achieve and maintain the desired look.
Concerns/Conditions Addressed:
Thin Lips
Lax Skin
Lost Facial Volume
Wrinkles & Lines