Laser Skin Resurfacing

---
Recapture Younger-Looking Skin
You can have a more youthful-looking appearance with improved tone and texture of your skin. Achieve long-lasting results without the pain or side effects associated with a more invasive surgery. Best of all, you will still look like you – only better!
This fractional technology uses microbeams of energy to create areas of affected tissue that extend through the epidermis into the dermis. This triggers the body's natural healing process to create new, healthy collagen.
You will have an improvement in both tone and texture, resulting in younger looking skin. Treatment plans can be adjusted to fit everyone's lifestyle.
| | |
| --- | --- |
| Service Time | 15 - 60 mins |
| Downtime | None |
| Sessions Required | 2 - 4 |
| Discomfort Level | Mild |
---
Before + After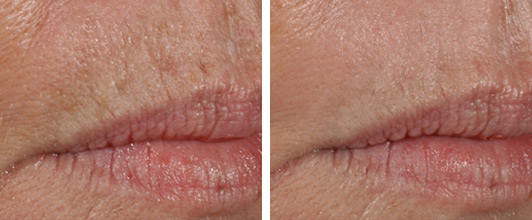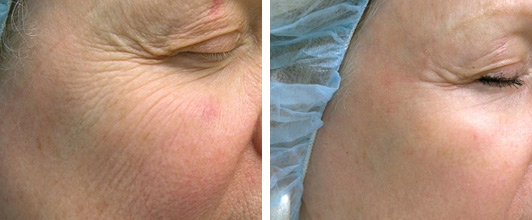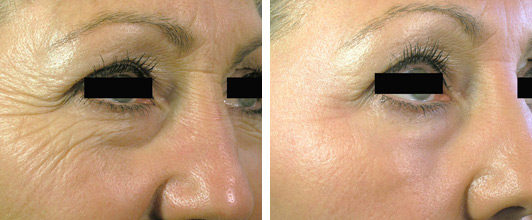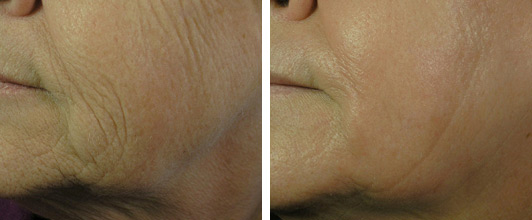 More Details

---
FAQ's
What areas can be treated?
Laser skin resurfacing is ideal for deep, difficult to treat lines and creases around the eyes, mouth and face.
What type of result can I expect?
Expect to see a decrease in the appearance of lines and wrinkles resulting in smoother skin.
How long does the treatment take?
The treatment can be performed in as little as 30 minutes, depending on the size of the treatment area.
When can I resume my daily activities?
Typically you may resume your daily activities in as little as four days.
How many treatments will I need?
Most people see desired results with only one treatment session.
What can I expect following the treatment?
Speak with your provider to discuss possible side- effects and the necessary post-treatment care.
What to Expect
Treatment Day.
First, you will be provided eye shields to protect yourself from the laser during treatment. The treatment will begin with the provider guiding the handpiece over the treatment area. Depending on the care option we select, you may feel nothing during treatment or mild discomfort. Post treatment instructions will be provided to manage pain if necessary. You may also experience some redness and/or swelling a few days after at the treatment site but this typically resolves by the third day.
Concerns/Conditions Addressed:
Wrinkles & Lines
Firmness & Elasticity
Schedule Your Free Consultation
If you are considering this treatment in Vancouver, BC, we welcome you for a complimentary professional consultation at Eternal Skin Care with one of our estheticians.