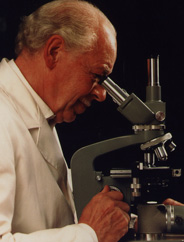 The worldwide leader in oxygen-based skincare. It is the only skin care line formulated with stabilized active oxygen. The revolutionary skin care line was founded over 40 years ago in Switzerland by Nobel Institute honoree Dr. Paul Herzog. It is still run by the Herzog family today and all the products are made in Switzerland.

Dr. Herzog dedicated his career to the study of respiration and the understanding the powerful effects oxygen can have on the body. He is the first person to stabilize active oxygen in a cream that can be used to treat medical skin conditions and was awarded the global patent for his invention. He worked with his wife, Karin, an experienced esthetician, to integrate his breakthrough technology into a revolutionary skin care line; Karin Herzog.

The brand has grown into a complete range of facial and body products and is distributed globally through spas, prestige and specialty retailers, and medical offices.