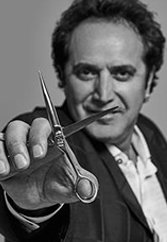 ONE DAY... JUST LIKE YOU, I WOKE UP AND LOVED HAIR.
From that day my fundamental belief is that any hairdresser can be more than their license. You just need 3 things: the desire to find your inner artist, the hunger to never stop learning, and products that allow you to create any look, on any client... and pay on the promise that their hair will be healthier and more beautiful than when they sat in the chair.

Every REDAVID product you & your clients experience is born from over 3 decades of living and breathing the artistry of hairdressing. Ideas discovered behind the chair to fill an artistic need, formulated with care, & stress tested for 3 years before I'll put it in your hands.

So imagine, create, sculpt and shape. Make any hair creation a reality and never stop giving your clients the very best: a style that stuns.