Behind Acne Scarring

For many, having acne is already a constant struggle but what makes it even worse are the scars it usually leaves behind. When we talk about acne scarring, it was clearly a result of intense trauma to the skin connected to acne.  We end up having scars when we touch or pick acne. However, the main reason behind getting acne scars is when the skin naturally tries to heal itself when its been damaged by acne.
How Acne Scars Form
  
Dead skin cells tend to clog open pores which slowly get filled with excess sebum resulting to increase of bacterial growth. Then, the pores can become engorged resulting in acne lesions. When these lesions rupture, it irritates the skin and cause inflammation which presents as redness or pigmentation. To repair this issue, the skin will naturally form new collagen fibers and this is the direct cause of acne scars. 

Treatment Options
 
Reducing acne scars requires more time and effort. Worry not, as we made it easy for you to
effectively reduce acne scars with a night care routine consisting of five easy steps to follow.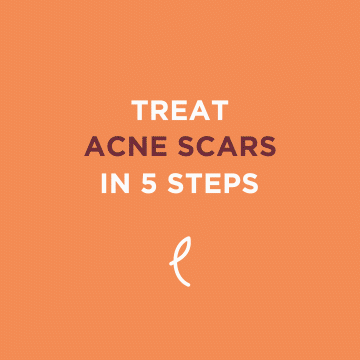 First, remove dirt or impurities by applying a moisturizing toner 

using a cotton pad.
After that, add 3-4 drops of vitamin serum and gently dab to soak entirely on your face.
Next, start targeting the acne spot by applying a thick layer of anti-acne serum directly on it.

Then, quench your skin's thirst with a non-sticky gel-cream that provides hydration.

Finally, focus on oily areas with excessive sebum using an intensive cream.
"The deeper and more inflamed the acne lesion, or the more that it is picked or squeezed, the more likely it is to scar,"
- Dr. Whitney Bowe

Dermatologist