Titan® Skin Tightening

---
Effectively Reduce The Appearance of Wrinkles And Loose Skin
Skin Tightening gives you an all-natural option to actively turn back the clock on aging skin. Using light energy to stimulate new collagen growth deep beneath your skin's surface, Titan can tighten skin on your face and neck. It's an ideal solution to enhance your youthful and healthy appearance without surgery, recovery time, or injections.
Sagging skin doesn't stand a chance when it comes in contact with the deep dermal heating action of the Titan! It's our top choice for optimal skin tightening and toning!
| | |
| --- | --- |
| Service Time | 60 mins |
| Downtime | None |
| Sessions Required | 1 - 3 |
| Discomfort Level | Mild |
---
Before + After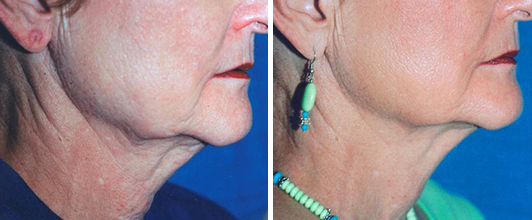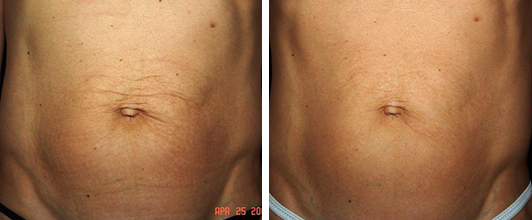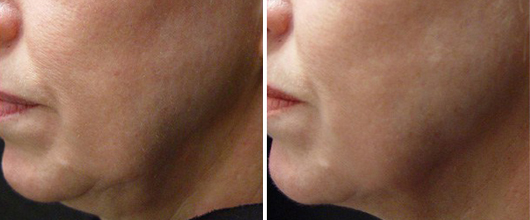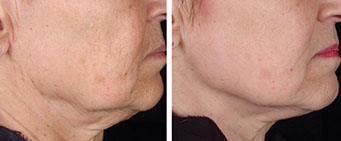 More Details

---
FAQ's
How does the Cutera Titan® Work?
Titan® utilizes a safe infrared light to heat the dermis well below the skin's surface. During the procedure, the skin's top surface (epidermis) is protected through continuous cooling with the Titan® handpiece. Titan®'s light-based platform provides a more uniform distribution of energy for heating the deep dermis than other energy sources.
Using infra-red light, the Titan® delivers controlled pulses of infra-red light to the skin, creating precise, deep dermal heating, while limiting the penetration depth of the heat to the deeper tissues. This dermal heating is a highly effective and safe method for tightening the skin, stimulating collagen production and remodelling, leading to a more youthful appearance.
What areas respond best to the Titan® procedure?
Patients have been successfully treated on many areas o the body. The most common areas treated are the jawline, under the chin, and the abdomen.
Who can be treated?
Since the Titan® procedure heats tissue under the skin's surface, patients of any skin type or age can be treated.
How many treatments will I need?
Although a single treatment has produced very good results for many patients, it is quite common for patients to have two or thee treatments over a few months.
What happens after the treatment?
Immediately following the treatment, you may notice some redness and mild swelling in the treated area. Both should dissipate within a few hours.
What do treatments feel like?
With each Titan® pulse you will feel a brief heating sensation. Some patients are more comfortable taking a mild pain reliever beforehand. Many patients are comfortable without any medication.
What to Expect
Treatment Day.
Before a skin tightening treatment session, it is important for a patient to remove all make-up, oils, sunscreens, and any other substances that may be on the skin. Then, the laser skin tightening practitioner will apply a topical anesthetic cream to the area to be treated and supply the patient with protective eyewear. Because of the non-ablative nature of laser skin tightening treatment, no further anesthetic should be needed, though patients who have a particularly low tolerance for discomfort may wish to take an over-the-counter pain medication prior to treatment.
Concerns/Conditions Addressed:
Schedule Your Free Consultation
If you are considering this treatment in Vancouver, BC, we welcome you for a complimentary professional consultation at Eternal Skin Care with one of our estheticians.